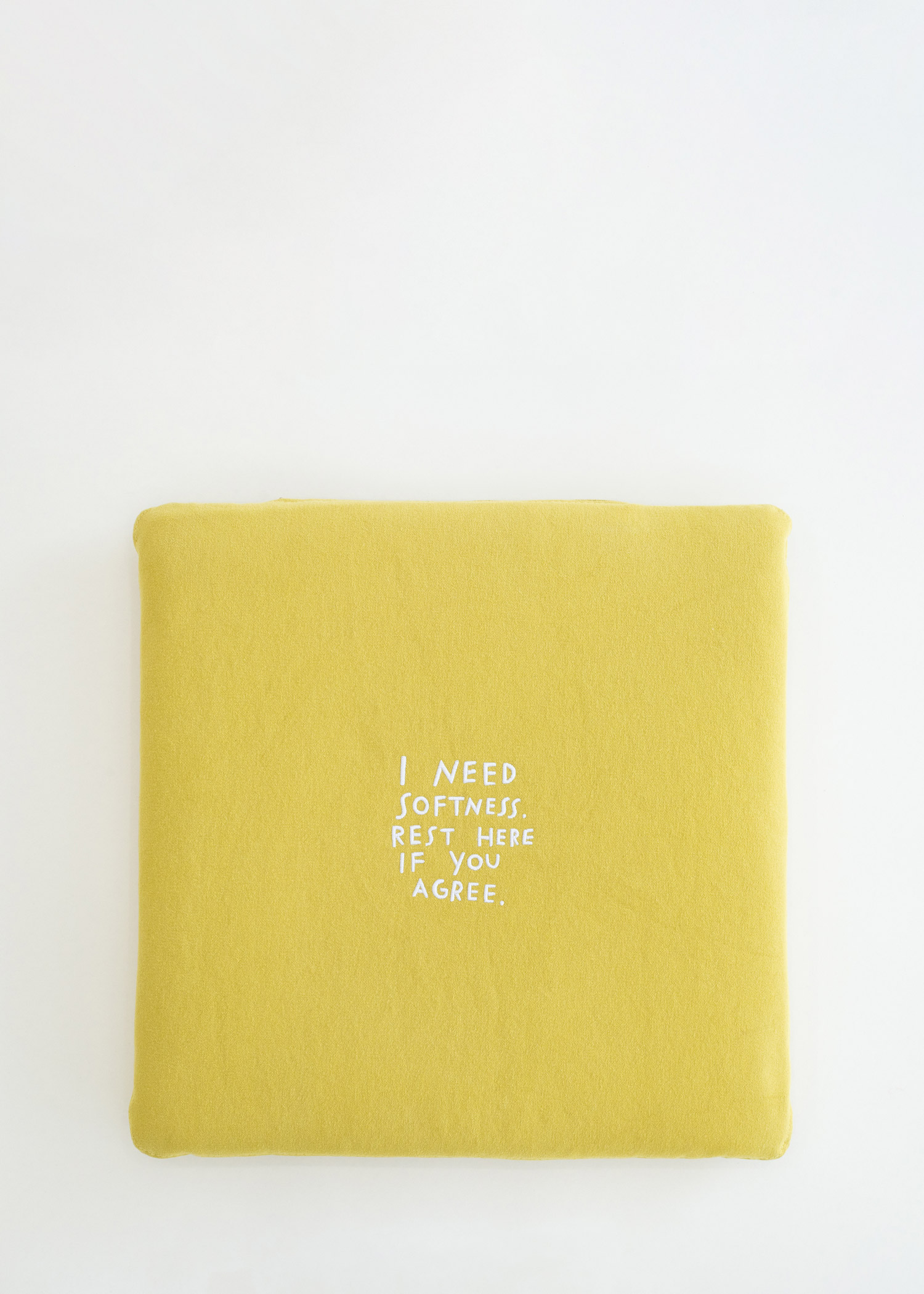 Benjamins + Shannon Finnegan, 'Stay Awhile'
Benjamins + Lauren Godfrey, 'Amici di Penna alla Finestra'
Benjamins + Norma, 'Shoe Rack'
¹ Shannon Finnegan is an interdisciplinary artist. Some of their recent work includes Anti-Stairs Club Lounge, an ongoing project that gathers people together who share an aversion to stairs; Alt-Text as Poetry, a collaboration with Bojana Coklyat that explores the expressive potential of alt-text; and Do You Want Us Here or Not, a series of benches designed for exhibition spaces. They have done projects with Banff Centre, the High Line, the Museum of Contemporary Art Denver, Tallinn Art Hall, and Nook Gallery. Their work has been supported by a 2018 Wynn Newhouse Award, a 2019 residency at Eyebeam, a 2020 residency at Surf Point Foundation, and a 2020 grant from Art Matters Foundation. They live and work in Brooklyn, NY.
² Lauren Godfrey is an artist based in London. Her work invites interaction and collaboration, often swerving close to furniture or the quasi-useful. In recent work, fountains and sundials-elemental clichés-meet post-modern silhouettes and pattern overload. Recent exhibitions and collaborations include Pattern Portraits (Kings Cross) at Coal Drops Yard, London; Group Hat solo show, De La Warr Pavilion; Hidden Harlequin with Lauren Coullard at Centre For Recent Drawing, London; Doing Easy, Outpost Projects, Joshua Tree; a swimwear display for Karen Mabon at Les Filles in Lisbon and a jewelry display for SVP at House Of Voltaire, London. Recent residencies include Villa Lena, Tuscany, 2019; Triangle, New York, 2016; and Kingsgate Workshops, London, 2015.
³ Norma is a studio for objects, moveables, and spaces. From its base in Los Angeles, the studio pursues research, fabrication, product, furniture, and interiors projects rooted in explorations of form and material. Norma seeks out commissions from and collaborations with patrons and peers both local and international, with the consistent goal of creating narrative-based outputs founded in generosity, candor, and delight.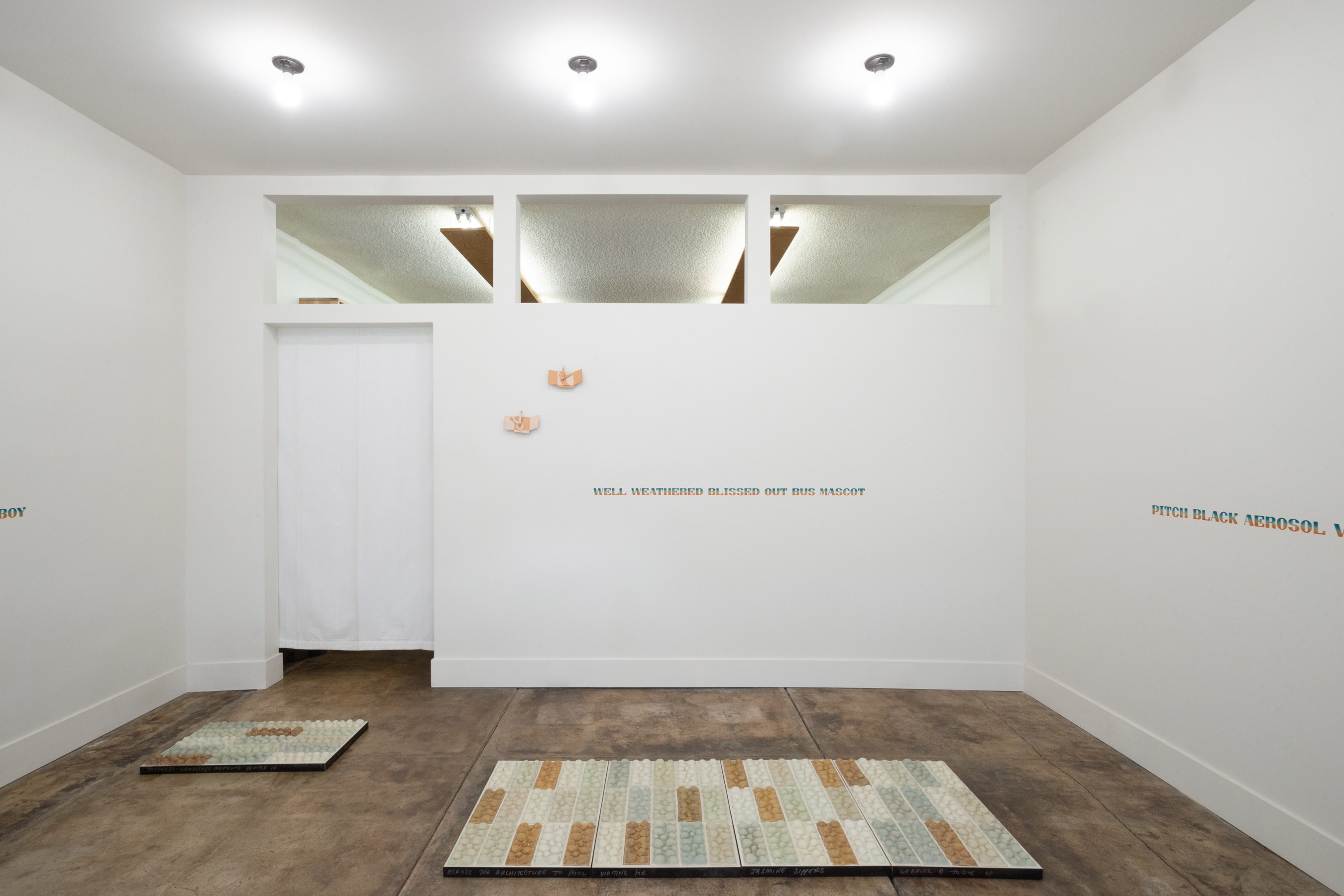 Exhibition view, North wall.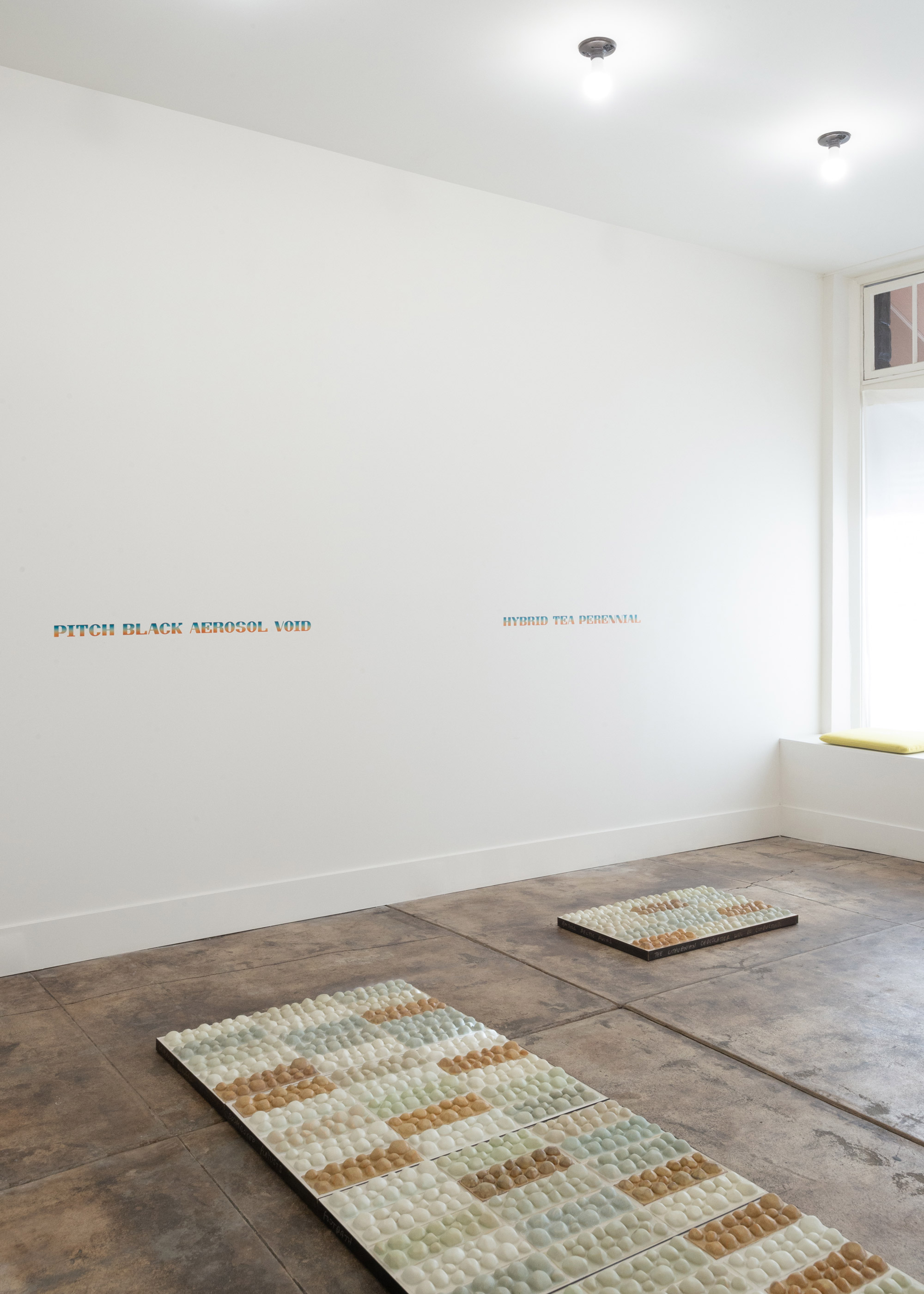 Exhibition view, East wall.
'A queue of ceramics waiting for their post-glaze footbath.'
Mart

a
Marta is a gallery that hosts works at the meeting points of art and design. Founded in Los Angeles in 2019, the gallery makes space for artists to experiment with the utility of design, and for designers to explore the occasional abandonment of function. Marta's curatorial and publication programs take interest in both the process of an object's creation as well the narrative of its creator(s). Marta embraces the intersection of disciplines, advocates for diversity in design, and promotes access to the arts.